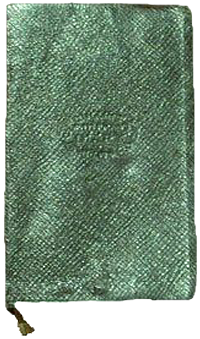 The research for Foul Trade really came alive when I discovered Oscar Kirk's 1919 diary amongst the treasures in the Museum of London Docklands. He was a 15 year-old messenger working in the West and East India Docks. Oscar wrote down the sort of things every boy would find noteworthy – divers salvaging in Limehouse Basin; a chemical works' fire; watching a Charlie Chaplin film; letting off a cordite cartridge he'd bought; being chased out of the sack sheds by a policeman. But he also included remarkably touching details of his ordinary life:
Tuesday 4 February 1919
Went to the library and changed my library book and also Nanas [sic] ("Strand" for me and "Eternal Love" for Nana). Bought two halfpenny buns as I was coming home from the library.
Wednesday 5 February 1919
Had some fish for supper (cod). Read some of my library tonight. Had some chestnuts today out of the SS Rhio. I found the chestnuts on the quay but I didn't think that I could be charged with stealing them as I found them. Had some soup for dinner (at 5pm).
Saturday 8 February 1919
It is my half-day today. Went to London Bridge in the afternoon on an omnibus . . . I think that I have lost sixpence out of my pocket but Mother made it up for me. I bought "Gem" and a ginger cake. Nana came this evening and made some chocolate which turned out to be somewhat of a failure.
This young man lived in a time and place I wanted to write about, and through his diary allowed me a glimpse of his world. In gratitude I've dedicated Foul Trade to the memory of Oscar Kirk.