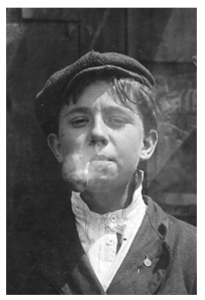 'Smudger was sitting on a tabletop tombstone, puffing away at a cigarette he'd cadged earlier from Jack'.
Writing stories is all about creating characters. Knitting together wispy trails of thought and reflections until each has enough substance to fill the roles sketched out for them. I don't hold with any of the my characters just took over flummery about the development of fictional personalities; my characters are products of my conscious and subconscious mind and, as such, are constructed from all manner of things – oral history; old photographs; contemporary novels, journalistic pieces & memoirs; facets of real people; facets of myself; imagination; things I wasn't aware I knew and can't place but come from inside my head all the same.
I wanted to share this picture as the one I have chosen to stand in for one of my favourite characters in Found Drowned, Martin Woodleigh (known to his friends and enemies alike as Smudger). I really don't mind – in fact I would be positively pleased – if those of you who have read the book have different ideas of how he should look because that means I must have been successful in breathing life into this particular creation.
---
If you've come to this page by way of the question I posed concerning historical accuracy, in the draft of Found Drowned Smudger was to tell May something that would change the course of her investigation: it concerned photographs of children being used to advertise various products. Except this was a pretty rare occurrence in 1920, drawings and paintings being mainly used then. Which meant the picture I was going to paint of Smudger delivering the vital clue in a way which linked things for the readers, had to go too. And it was my favourite little sketch of Smudger:
'He shifted his bottom so that he could rest an ankle on his knee, then placed his hand on his hip and raised the cigarette to the side of his face. The pose was a perfect parody of the suave man in the Park Drive advertisements'.
Discover more what went on behind the scenes in the writing of Found Drowned:
Undercurrents of Found Drowned
Explore some of the investigations I undertook on research topics of the May Keaps series in general:
And for the novel Found Drowned in particular:
Slang and cant: the words and the music
As well as the May Keaps series, you may also be interested in the characters I created for the Rhythms in Crime Dance Quartet or Walls of Silence