Participation in sports was hugely popular during the interwar years. There were lots of reasons for this – no television or computers, a social drive to keep fit and healthy, a (relative) increase in leisure time as more people moved away from working the land and into factories, a growing sense of belonging to a community as well as a family, increased literacy enabling the exploits of sporting favourites to be followed in the newspapers.
The crowds that attended football matches were enormous: 118,000 watched Rangers in 1939, and other clubs regularly had between 65,000 and 80,000 cheering them on. In 1931, the greyhound Mick the Miller, ran at White City in front of 70,000 spectators, whilst in 1935 Harringay speedway was said to have attracted 40,000 in a single meet.
A new breed of sportsman (and they nearly were all men) celebrity emerged. They usually sprang from public schools and Oxbridge, having been granted the time and income to pursue their training regimes. However there were some real Rover of the Rovers working-class heroes. Here's a few from both camps featured in 1913 & 1914 editions of the periodical Modern Life. Choose your favourite, I know I have mine.
1913. Al Palzer. In one of the most shameful periods of American sports' racism, he was one of 'The White Hopes' set up to challenge Jack Johnson. The columnist wrote: "There should be no heavyweight fights between white and black pugilists. It is silly to call them boxing matches, they are bloody fights and everyone of them does incalculable harm".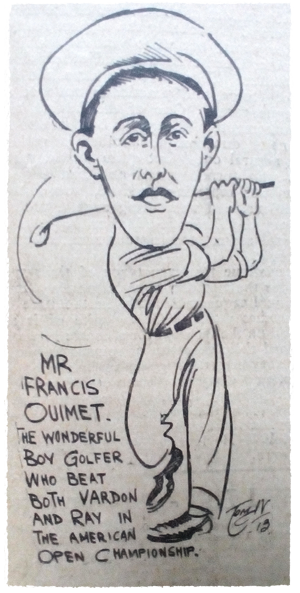 1913. Francis Ouimet. American amateur golfer who astounded everyone by winning the U.S. Open that year. Aged 20, he was said to have "borne himself in manly fashion when even pretty women were tearing one another's back hair to get a kiss"
1913. Tom Collins (no relation to the cocktail) played once for Scotland, and 122 times for Tottenham Hotspur. He only scored one goal in his 5 years at Spurs but then he was their full back.

1913. Sam Hardy made 21 appearances as England's goalkeeper between 1907-1920. He played for Liverpool and became their number 1 goalkeeper in his final year at Anfield. He won the FA Cup with Aston Villa in 1913.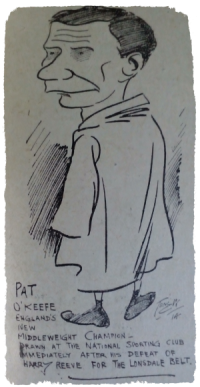 1914. Pat O'Keefe. Outboxed Henry Reeve in 1914 to win the Lonsdale belt and the middleweight championship.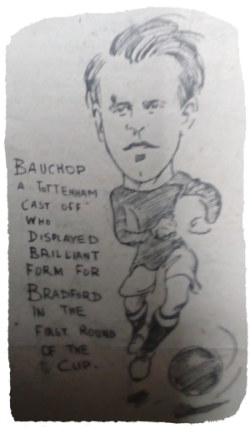 1914. Jimmy Bauchop played for various football clubs including Celtic, Derby County, Norwich, and Crystal Palace. He joined Tottenham Hotspur in 1913 and then was 'let go' in the same year to Bradford Park Avenue (157 games and 67 goals). Spurs' loss was undoubtedly Bradford's gain.
1914. Heinrich Schmidt. Lost to Harold Hilton in the sixth round of the 1913 British Amateur Championship at St. Andrews. Won the Western Amateur tournament in the United States in 1916.

1914. Harold Godfrey Bache. A terrific sportsman playing hockey and cricket at county level, and football for Cambridge Univ, Corinthians, and West Bromwich Albion. He won one England Amateur cap. Enlisted in October 1914. Killed in action at Ypres in Feb 1916.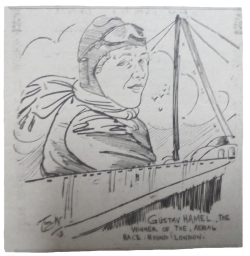 1913. Gustav Hamel. A pioneer of aviation, he won numerous aerial races and was the star of daring flying displays. He was said to be: "as English as Scandinavian origin will allow . . .". In 1914, as his passenger, Miss Trehawke Davies was the first women in the world to experience the sensation of looping the loop, She was also the first lady passenger across the Channel. He went missing over the English Channel later that year.
1913. Frederick "Fanny" Walden. Northampton, Tottenham Hotspur & England. "He is fast, tricky as a cage of monkeys . . .". He got his nickname for his height (although it means something quite different now, 'fanny' was slang for someone short back then). He was also a county cricketer.
1914. Eddie Mosscrop (on right) had a big year in 1914. He played for England in the International Trial (England v The North), won two caps for his country, and was in the Burnley FA Cup winning side which beat Liverpool.
1914. Frank Buckley (left) played for Derby County in 1914 and for the North in the International Trial, England v The North. He won his sole cap for England that year.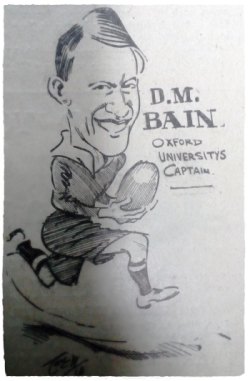 1913. David McLaren Bain. A Scottish Rugby International, and Captain of the 1913 Oxford University team. The varsity match didn't take place the following year because of the outbreak of war. He was killed in action in 1915.
1913. Douglas Robinson. Army officer and cricketer. Captained Gloucestershire. He also played for Essex, Marylebone Cricket Club and for the amateur Gentlemen and England XI teams. Fought in WWI and became a lieutenant-colonel.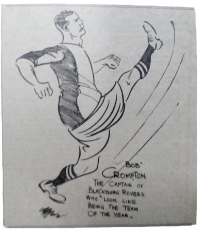 1913. Bob Crompton. Blackburn Rovers & England. He captained his country 22 times (including in 1913) and his 41 English caps were a record until 1952. In 1914 it was said about him: "Crompton is a veteran, but seems, like good wine, to improve with age".
1913. Barry Stephenson Cumberlege. Won both cricket and rugby Blues at Cambridge. In WWI he served at Ypres, was mentioned in dispatches, and awarded an OBE in 1919. Capped 8 times for the England Rugby team, he also played county cricket for Kent.