My great-uncle, Arthur Lissenden, was a jobbing artist and amongst the things he illustrated was this Shepherds Bush Empire playbill from 1927. I have 3 original variety theatre playbills hanging on my bedroom wall. Shepherds Bush Empire, Chiswick Empire and Ardwick Green Empire. All from 1927. I gaze at them every night but know precious little about the acts themselves, I thought it was time I rectified that with some research.
Each of the established turns on the circuit had a phrase that would be printed with their name to give the audience an idea of what they were in for. This bill matter became something they were very closely associated with, often turned by the performer into a catchphrase.
Shepherds Bush Empire playbill 1927.
Note the performance at the Shepherds Bush Empire was twice nightly: the acts certainly earned their money in those days. Also that there was a slot for showing 'cinema impressions of recent news' the 1920's equivalent to catching up with events online.
Will Fyffe
The Popular Scottish Character Comedian. And boy, was he popular. He appeared at the Royal Variety Performance in 1922, 1925, 1932, 1937 and 1938.  Of course it wasn't always that way. He was in revue when he wrote 2 songs he hoped to sell to well-established Scottish singer, Harry Lauder. Harry turned them down so Will performed them himself in 1921. I'm Ninety-Four Today probably isn't immediately recognisable to most people but I Belong to Glasgow was a massive hit and is still sung today. Here's a recording of Will Fyffe singing it. He became a star when he performed at the London Palladium in 1921 (he was on the bill 16 times in all) and was a huge draw in variety theatres and music halls across the UK.
"The Two of Us" Jane Ayr & Billy Childs
Music, Mirth AND Dancing.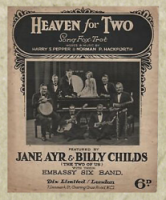 The Stage regarded them as 'performers of much versatility' with 'clever dialect work of Mr Childs'. It seems the act was made up of 'Jane Ayr the dainty comedienne and pianoforte player & Billy Childs, a clever dancer and comedian' performing with their band. The act also featured 'the Baby Boy brothers who are small dancers, clever boy performers never in any danger of lack of staunch approval'. So now you know.
Ernie Mayne
The Simple One. [Caricature courtesy of great-uncle Arthur] A comic singer who was extremely corpulent and specialised in songs about food and the eating of it. Here's a Pathé film of him delivering patter and a song in a style that can only be called unique now, but was common on the music hall stage. Although it beggars belief, he was famous for ditties such as:
No we Don't keep Fish only Kippers
Plenty of Pudden
A N'Egg and some N'Ham and a N'Onion
I Can't do my Bally Bottom Button Up
You Can't Get many Pimples on a Pound of Pickled Pork
And, yes, they were all spelt and capitalised like that.
The Original Elysees
In a Novelty Comedy Act. I couldn't find out much about them – not even how many there were. But they must have been quite something to watch because The Stage said they 'execute many clever barrel and other jumps including one right over the orchestra and into the stalls'. Wish I'd been there.
Hart Pender & O'Neill
Somewhat Different. It took a lot of digging to sort out who these people were. And the results pleased me immensely. First off, there was the connection with the fabulous Cary Grant (the model for Braxton Clarke in my May Keaps series) but more of him later. The Pender troupe were acrobats, stilt-walkers, pantomime artists of the top drawer, mime and slapstick performers, dancers . . . if it drew an audience for physical comedy, they did it. Gaumont featured them in a couple of silent film shorts. Bob Pender had been a famous Drury Lane clown and Margaret, his wife, a dancer and ballet mistress at the Folies Bergère. Quite a pedigree. They were appearing in Bristol and looking to expand the troupe of young performers when they recruited 14 year old Archibald Leach (a.k.a. Cary Grant). In 1920 he sailed with them to New York on the Olympic, and the rest, as they say, is history. When Bob Pender retired, his daughter Doris, her husband Henry John Hart, and another physical  comedian, Chuck O'Neill, formed the comedy act Hart Pender & O'Neill. Which is where we came in.
Zaleski (and Estelle)
In their Novelty Act "The Golden Spider". Sad to say, I drew a blank on this one.
Idris Daniels
Bass Baritone. 1920's variety theatre audiences loved good singers. And Idris was dubbed 'the man with the golden voice'. He won the Novice Solo in the 1919 Eisteddford in Pencader, was a double prizewinner at the 1926 Welsh National Eisteddford when he was 14, and went on to achieve the unparalleled feat of winning the entire competition twice (1932 & 1935). In 1927 the Sporting Times reported him as being 'the son of a railway signalman, and not long ago an electrician on the Great Western'. I read elsewhere he was a bus driver. Perhaps he'd been both until his talent released him to a life of singing. His performances were often broadcast on the BBC wireless.
Johnson & Bert
Present a Comedy Episode, "Smiling Through". This duo performed one-set comedy acts, I suppose in the manner of a modern-day sketch (although much longer). The Stage reported in 1927 they were 'sound comedians' who 'provoke the heartiest of laughter whenever they appear'. Apparently in this routine they 'cause great fun as a couple of provincial actors engaging digs from a theatrical man, an episode taken from real life'. Also noted was the introduction of a theatrical landlady (later to become standard comic fare in skits about the business).
Variety theatre has a starring role in my 1920's East End London novel Foul Trade and here are two pieces I wrote about the research that went it: Clear the stage, dim the lights and Music halls and all things theatrical, darling. You will find my great-uncle Arthur pops up again.