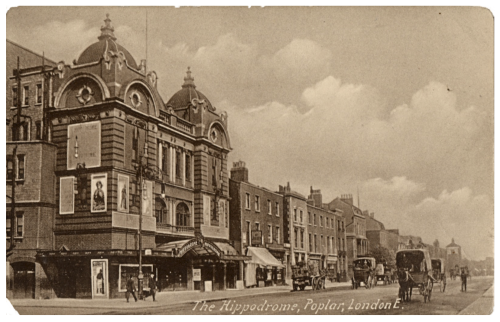 In Foul Trade, Alice Keaps has her heart set on treading the boards. So, for that ambition to stand any chance of being fulfilled, I had to have a music hall for her to work in. There were two theatres in Poplar in 1920 – the Hippodrome and the Queen's – but I wanted one that I could ensure would suit Alice (and the May Keaps series as a whole) down to the ground. I called my imaginary theatre The Gaiety because the name evokes fun, laughter, and transport from a life of drudgery whereas, ironically, for the stage turns it was a place of merciless judgement and potential humiliation. Entertainment at another's expense – not unlike our current television talent shows.
I remember when the Hackney Empire was first being restored to something of its former glory and being taken there by a friend working on the project; although it was a sad neglected place, the flaking walls and threadbare plush seats still held traces of magic and it was easy to fantasise what it must've been like to be on stage holding a packed-out Saturday night audience in the palm of your hand. It was something of that atmosphere I was trying to recreate with The Gaiety – a theatre long-past its best but buoyed along by tradition, nostalgia (music hall was already on its deathbed in 1920) and the heartfelt affection of the community.
I found some brilliant resources on-line relating to the East End theatres of the day and I steeped myself in those and everything else I could find until I had absorbed enough to feel as though I had lived backstage in a former life. Then I set about having fun making things up. Like the stage turns and details of their acts. I did enjoy causing chaos with the poodles. But my favourite bit of theatre 'business' in the book is true and included as a tribute to all those long-dead performers who sweated blood to inject a moment of fantasy into the lives of people even more poor and downtrodden than themselves; the great Walter Aubrey really did leave the stage after dying a death and announced to the wings: "I'm off to pee on my props, and sod the profession.".
Here are some more pieces I have written on the topic of music halls and variety theatre:
Variety theatre 1918 show in aid of St Dunstan's
Ardwick Green Empire playbill 1927
Shepherds Bush Empire playbill 1927
Music halls and all things theatrical, darling
Postcard by kind permission of Philip Mernick