I've kept this battered copy of a 1914 variety theatre programme safe for over 40 years. It is one of those fascinating pieces of ephemera that speaks so much of its time and place but rarely survives either. It is startlingly to realise this survived two worlds wars and the London Blitz. I've been researching into the variety theatres & music halls of the 1920's (see Shepherds Bush, Ardwick Green, Chiswick Empire) and thought I'd throw this into the mix. It is not the only original document I have from the years of the Great War (1918 variety show in aid of St Dunstan's) but it is amongst the precious few annotated in my great-uncle Arthur's handwriting. More of that later. I've highlighted some interesting features (with the wonderful pointing fingers copied from the bottom of the penultimate page – I think I'll use them everywhere possible from now on) and included notes on what I discovered about the acts.
If you want to know more about the  Golders Green Hippodrome: as a Grade II listed building Historic England have architectural information. Cinema Treasures have photographs and visit arthurlloyd.co.uk  for music hall and theatrical past.
So, without further ado, curtain up on the  Golders Green Hippodrome . . .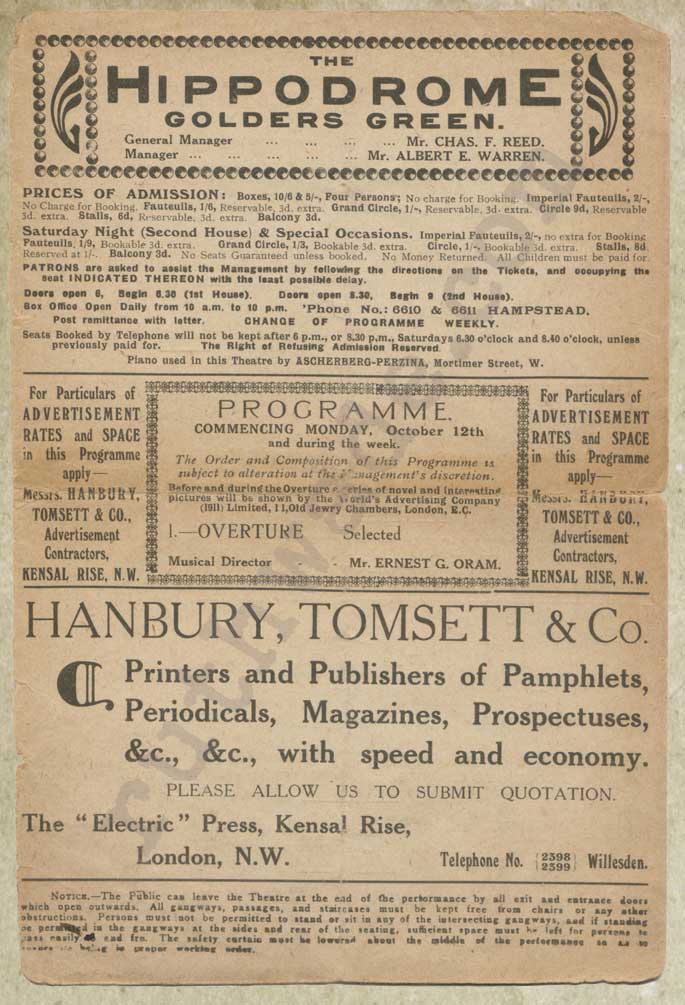 The programme isn't dated but includes a summary of who will be appearing the next week (October 19th). I tracked it down to 1914 by looking in The Stage newspaper archives. It was the publication everyone in the business read because amongst engagement opportunities, reviews and gossip, it listed calls for rehearsal (vital at a time when artistes travelling from venue to venue had few ways of being contacted, and none as fast and reliable as thumbing through a newspaper). At the beginning of all new runs the acts were brought together somewhere suitable and put through their paces. The rehearsal call for these acts appearing at the Golders Green Hippodrome went out in October 1914. And a little later you can see for yourself why it couldn't  have been from any year prior to 1914.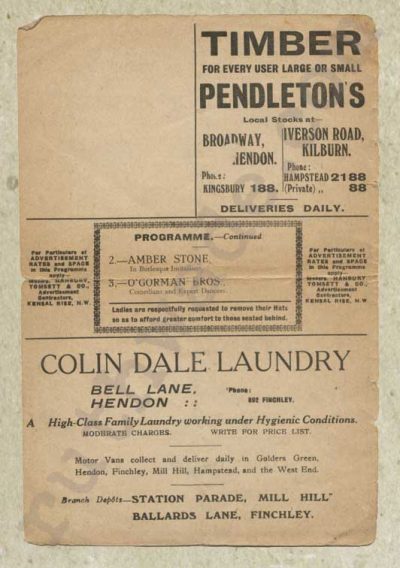 The advertisements are all local to the particular area of North London where the Golders Green Hippodrome is situated and are for remarkably ordinary things such as laundries and timber merchants.
Amber Stone. In Burlesque Imitation. She was comedian and dancer who excelled in mimicry. I know no more.
O'Gorman Brothers. Comedians and Expert Dancers. Joe and Dave. I had never heard of them before I started this quest but it seems they were huge stars of their day, especially in America. There is a Wikipedia page on them, and a site dedicated to the entire O'Gorman theatrical family. And a Pathé film or two.  Both brothers were keen cricketers and played for Surrey second XI (where did they find the time?).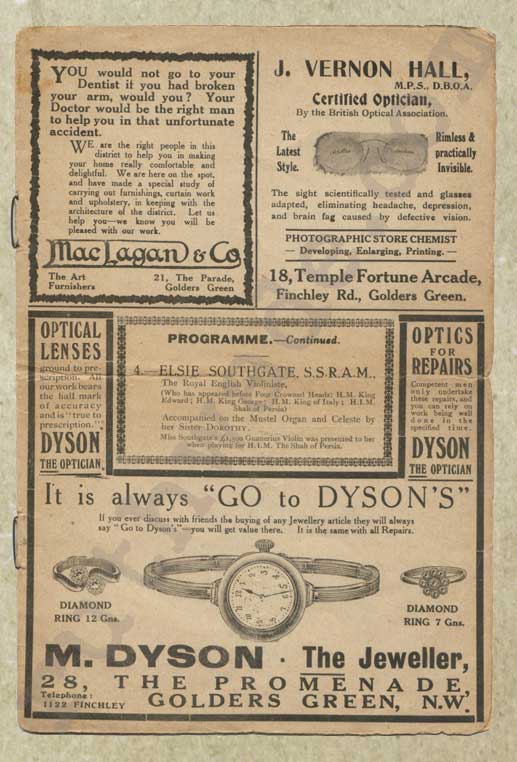 Elsie Southgate S.S.R.A.M. The Royal English Violinist. (Who has appeared before Four Crowned Heads: H.M. King Edward; H.M. King George; H.M. King of Italy; H.I.M Shah of Persia). By the way, she was playing a Guarnerius violin worth £1,500: approx 12.5 years' wages for a skilled tradesmen in 1914.
Now here's a story and a half . . . Elsie Southgate's real name was Lady Odin Pearse (yes, truly) and she studied violin 'as an accomplishment with no thought of appearing in public'. However she was obviously more gifted than she realised because she won a scholarship to the Royal Academy of Music where she became a pupil of Émile Sauret. She made her first concert appearance with the Queen's Hall Orchestra under Sir Henry Wood in 1905, and subsequently played at his London Promenade Concerts. She also performed in Germany and Paris. 'Then I got married, and gave up the violin, as I thought,' she recounted. But 'having been left a widow with two little ones to support, I thought I would see if I could make good at a variety theatre. I got my chance at a matinee at the London Pavillion. Result: A month's engagement, and I have been booked up ever since.' This was in 1910 and for the next 20 years she made her career on the UK variety stages, touring the USA & Canada in 1926. What a woman.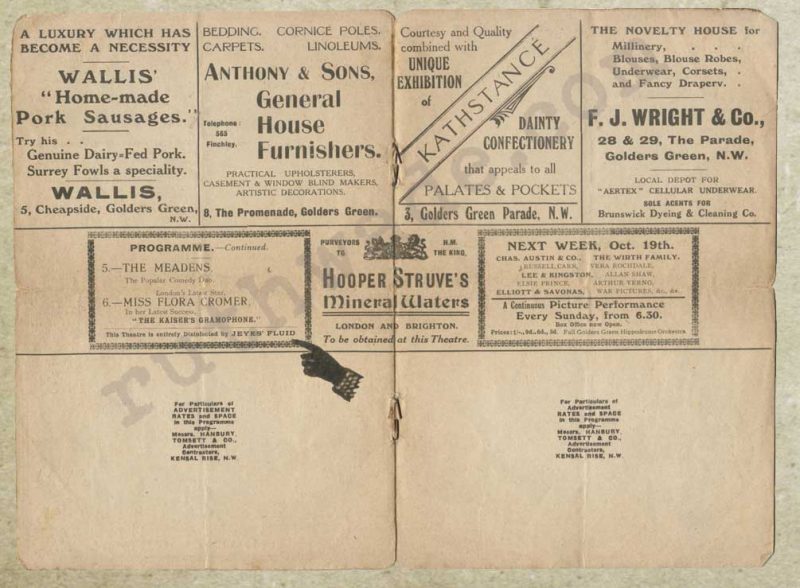 The Meadens. The Popular Comedy Duo. I think this was Claude and Korah who were performing an act called The Commercial Traveller around that time.
Flora Cromer. London's Largest Star (Note her bill matter is above her name signifying a major attraction). Real name A.F. Harding, until she got married when she became Mrs Florence Pierce. A singer, songwriter, mimic, comedian, and possibly a lot else besides. Oh yes, she was a pantomime artiste and played the principal boy in the Lyric Hammersmith's production of Jack and the Beanstalk in 1912. She specialised in musical monologues, had a noted version of a coster girl routine (a perennial favourite of London audiences), and was said to be world famous for Ah, the World Will be Jealous of Me. Here is a recording of her singing  I Don't Like Music . On this programme she is billed as performing her latest success The Kaiser's Gramophone which must have some topicality to the Great War. She continued performing it until at least 1919. In 1928 she was in the King's Bench Division of the High Court claiming damages for breach of contract from the Alhambra Co. It should come as no surprise that she won.

Note the reassurance that the theatre has been disinfected with Jeyes Fluid. I can't tell you if this was general practice when all sorts of patrons would be crowding into a variety theatre for two performances a day, or if was a special precaution. Of course this was in advance of the 1918 influenza pandemic but it was also before the discovery of penicillin so any communicable disease was potentially life-threatening.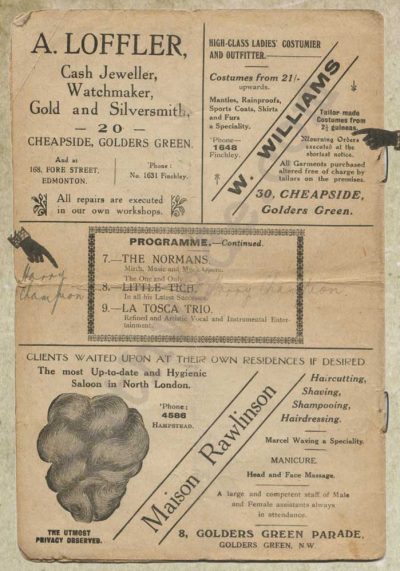 My favourite page of the whole theatre programme so many reasons.
The Normans. Mirth, Music and Mock Opera. And now you know as much about them as I do.
Little Tich. The One and Only. Except, of course, it wasn't. Because . . .


My great-uncle Arthur crossed out Little Tich and wrote in Harry Champion – both in pencil and fountain pen. Either act would have been the main draw and top of the bill. So as he didn't get to see the small man with the big shoes on this occasion (although, I'm sure, he would've plenty of times) I'll tell you about Harry Champion.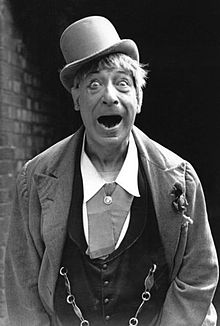 A huge star at the time, he was a red-nosed comic in the long-established tradition dating back to the days of Grimaldi and the clowns of Drury Lane. He delivered his songs and patter at breakneck speed, often accompanied by a wooden clog dance. A Cockney in every fibre of his being, he was adored by London audiences and one of his songs became so familiar his name was incorporated into Cockney slang: the dish of boiled beef & carrots would be requested as 'a Harry Champion'. He started in the music halls as a boy, retired after his career began to decline in the 1920s, then returned in triumph to appear in the Royal Variety Performance three times in the following decade. As well as Boiled Beef and Carrots, his songs I'm Henerey The Eighth I Am, and Any Old Iron carry Harry's name forever.
La Tosca Trio. Refined and Artistic Vocal and Instrumental Entertainment. I reckon their bill matter sums them up, and I can't find anything else on them anyway.

The advertisement in the top right corner boasts Mourning Orders executed at the shortest notice. Another sign of the turbulent times.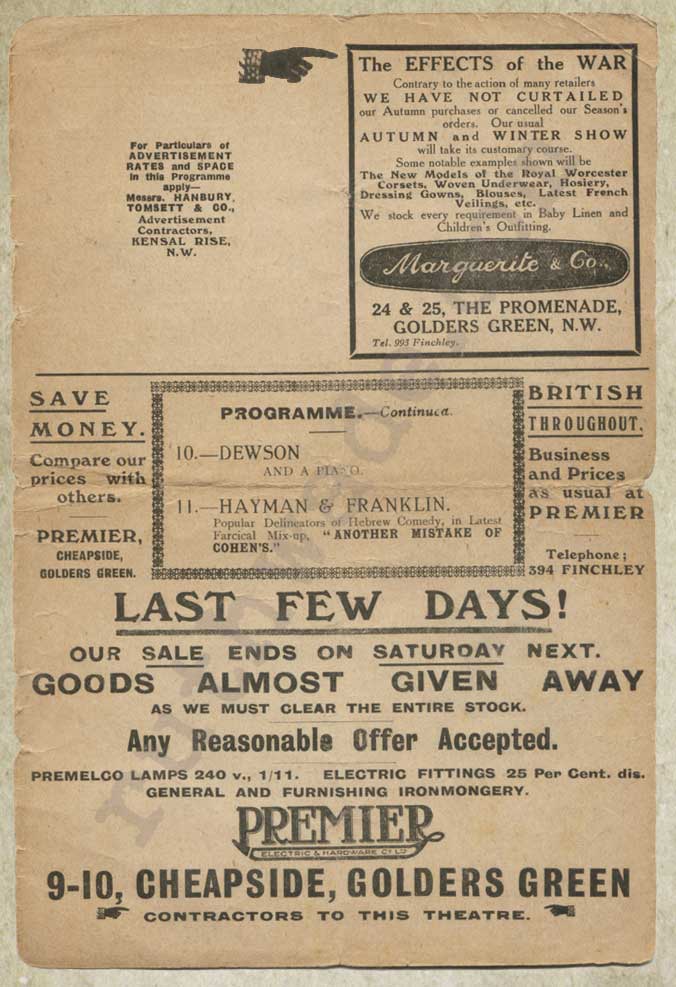 Dewson. And a Piano. I hope he was good.
Hayman & Franklin. Popular Delineators of Hebrew Comedy, In Latest Farcical Mix-Up, "Another Mistake of Cohen's". Elsewhere, their bill matter often read: The Gossips From The Ghetto. Joe Hayman was an American Jewish performer whose stage partner, Mildred Franklin, was also his wife. They established their variety act in 1899 and first appeared in Britain in 1904. Try the following if you want to find out more about the Cohen act in all its guises and why it was hugely popular. They were certainly favourites of the Golders Green Hippodrome audiences. As their comedy was primarily verbal they were also naturals to be broadcast on the wireless.
From BBC Radio Times January 28th 1927:
'Joe Hayman, the Jewish Entertainer (assisted by Mildred Franklin) in Comedy Sketches. Hayman and Franklin are perhaps the cleverest Hebrew pair now appearing on the music-hall stage. Without casting ridicule on the Jewish faith or in any way straining after effect, they produce an act worthy of the reputation that Joe Hayman has made for himself with his famous "Cohen" records. They have quite recently broadcast from London, but this week's tour – in the course of which they visited Glasgow yesterday and will be heard from Manchester to-morrow, Birmingham on Thursday, Belfast on Friday, and Aberdeen on Saturday – will be their first introduction to many listeners, although they are established favourites with the broadcast public of the United States'.

Top right advertisement. The Effects of The War . . . Obviously the pinch was being felt by traders and merchants even this early on in the conflict.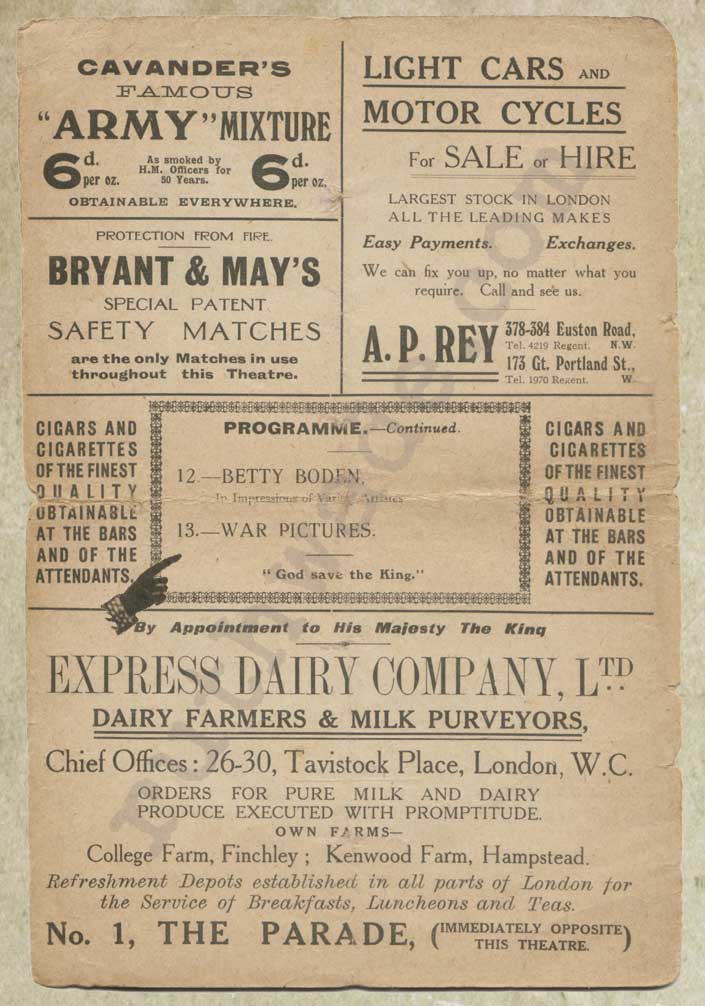 Betty Boden. Impressions of Various Artistes. In The Stage she is sometimes referred to as a comedienne, sometimes a dancer or singer. In one review she was a 'clever child singer and dancer'. They always said she was 'dainty'.

War Pictures. Evidence that this performance must have been after the outbreak of the Great War.
Variety theatre has a starring role in my 1920's East End London novel Foul Trade and here are two pieces I wrote about the research that went it: Clear the stage, dim the lights and Music halls and all things theatrical, darling.